Bowls in stock - Next Day Delivery
Free Shipping To UK When You Spend Over £50
Exceptional Customer Service Guaranteed
SHOP & VISITOR CENTRE OPENING TIMES/CONTACT DETAILS
NORMAL OPENING HOURS:
MONDAY - THURSDAY 9AM-4PM AND FRIDAYS 9AM - 12 NOON
NOTE: WE ARE CLOSED FOR THE EASTER WEEKEND ON FRIDAY 7TH AND MONDAY 10TH APRIL 2023. IN MAY WE ARE CLOSED ON MONDAY 8TH & MONDAY 29TH MAY FOR PUBLIC HOLIDAYS
ADDRESS: Taylor Bowls Ltd, 217 Bernard Street, GLASGOW, G40 3NB
TELEPHONE: 0141 554 5255
AS AN ALTERNATIVE TO VISITING OUR SHOWROOM, WE ARE HAPPY TO GIVE ADVICE AND TO TAKE ORDERS OVER THE PHONE OR VIA EMAIL!
ALTERNATIVELY, PLEASE SHOP ONLINE BY VISITING OUR WEBSITE WWW.TAYLORBOWLS.COM. YOU HAVE THE OPTION TO HAVE THE GOODS DELIVERED TO YOU OR YOU CAN "CLICK & COLLECT"
TO KEEP YOU UP TO DATE WITH OPENING TIMES, ETC PLEASE SIGN UP TO OUR NEWSLETTER AT WWW.TAYLORBOWLS.COM
-------------------------------------------------------------------------------------------------------------------------------
FACTORY SHOWROOM & VISITOR CENTRE
Receive a warm welcome when you visit our factory showroom and Visitor Centre. You can try our full product range of bowls, clothing, shoes, bags and accessories. We can give expert advice regarding purchasing the correct size and model of bowl most appropriate for your game. Customers can try our demonstration bowls before they buy on our indoor rink! Changing room and toilet facilities are available.
Discover more about the history of the Company and the game of bowls!
INDOOR RINK - You can try all our bowls on our laser levelled indoor rink. Expert advice is on hand to make sure you are playing with the correct size and model of bowl for your game!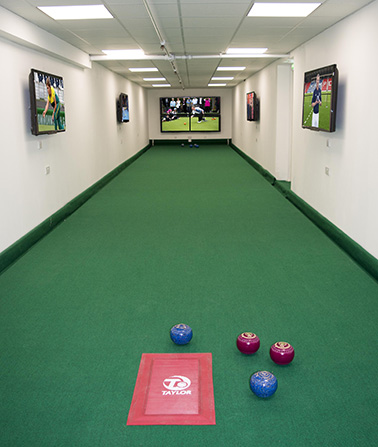 FACTORY TOURS - SINCE THE PANDEMIC WE ARE NO LONGER OFFERING ON SITE FACTORY TOURS! AS AN ALTERNATIVE PLEASE WATCH OUR INFORMATIVE VIDEOS TO DISCOVER THE INTRICACIES OF OUR PRODUCTION PROCESS. GO TO THE HOME PAGE OF THIS WEBSITE. SCROLL HALF WAY DOWN THE PAGE AND SELECT VIDEOS 4 & 6 ON THE FILM BOX ON THE RHS. ENJOY!!!

Find us here:
Taylor Bowls Ltd
217 Bernard Street
Glasgow, G40 3NB